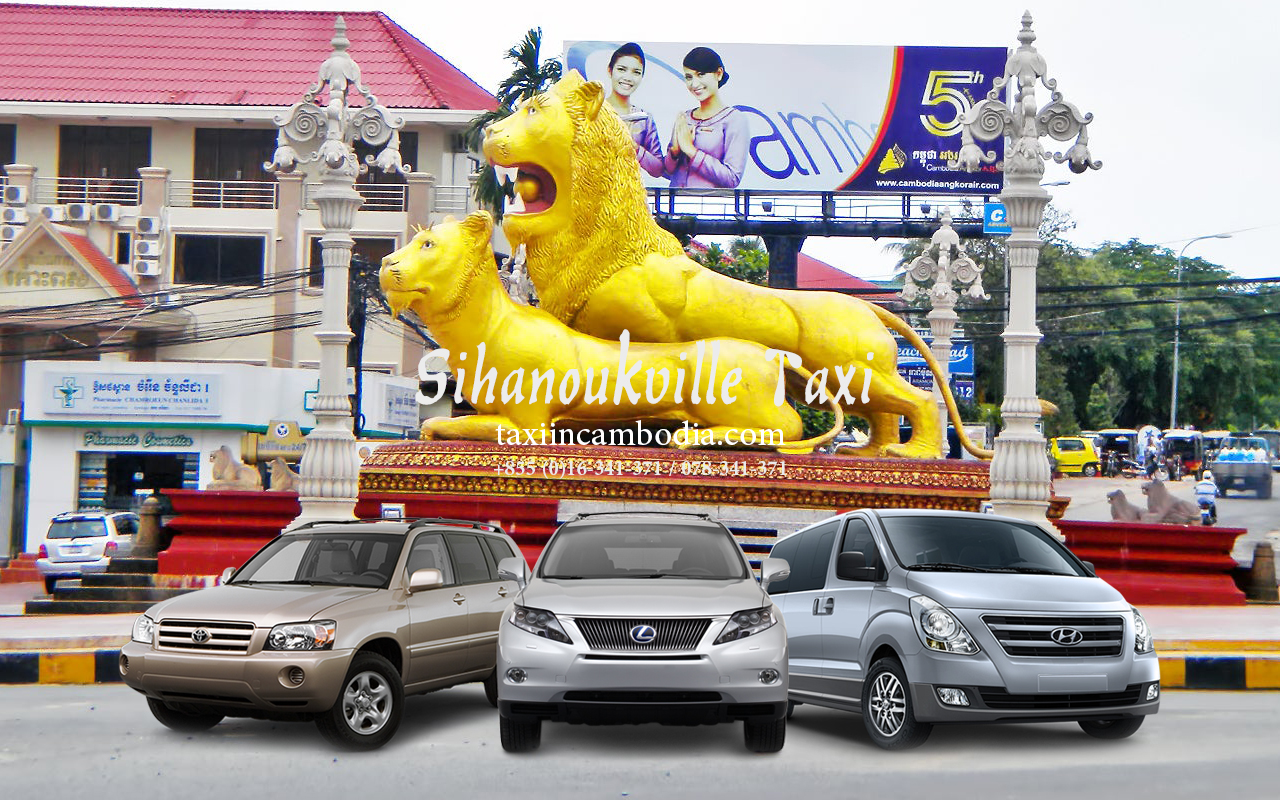 Sihanoukville Taxi offering daily private mini VIP transport for sightseeing tour (DAY TOURS / MULTI-DAY & EXTENDED TOURS), and Long Distance (PICK UP DROP OFF) by the good condition of  (A/C SUV, Minivan, Van and Minibus) comfortable and convenient ride, for the most popular routes to/from Sihanoukville – Phnom Penh – Siem Reap – Battambang – Mondulkiri – Ratanakiri – Kratie – Kampot – Kep – Koh Kong and other provinces, cities and the border of Thailand – Laos – Vietnam. We all speak English and fully licensed drivers.
Over 10 years of experience in doing this job, we knew the road conditions quite well and have brought our guests to their destinations comfortably and safely.
Book our private taxi to around the country with 25 provinces cities and borders, would save a lot of time and money and see a lot of things along the way, and enable for the stop for foods, rest-room, or photo shooting opportunity.
Sihanoukville City; Khmer: ក្រុងព្រះសីហនុ, Krŏng Preăh Seihănŭ "kroŋ prĕəh səjhanu", also known as Kampong Som (Khmer: កំពង់សោម, Kâmpóng Saôm [kɑmpɔŋ saom]), is a coastal city in Cambodia and the capital of Preah Sihanouk Province, at the tip of an elevated peninsula in the country's south-west on the Gulf of Thailand. The city is flanked by an almost uninterrupted string of beaches along its entire coastline and coastal marshlands bordering the Ream National Park in the east. The city has one navigable river, the mangrove lined Ou Trojak Jet running from Otres Pagoda to the sea at Otres. A number of thinly inhabited islands – under Sihanoukville's administration[4] – are near the city, where in recent years moderate development has helped to attract a sizable portion of Asia's individual travelers, students, and backpackers.
The city, which was named in honour of former king Norodom Sihanouk, had a population of around 89,800 people and approximately 66,700 in its urban center in 2008. Sihanoukville city encompasses the greater part of six communes (Sangkats) of Sihanoukville Province. A relatively young city, it has evolved in parallel with the construction of the Sihanoukville Autonomous Port, which commenced in June 1955, as the country's gateway to direct and unrestricted international sea trade. The only deep water port in Cambodia includes an oil terminal and a transport logistics facility. As a consequence, the city grew to become a leading national center of trade, commerce, transport, and process manufacturing.
Sihanoukville's many beaches and nearby islands make it Cambodia's premier seaside resort with steadily rising numbers of national visitors and international tourists since the late-20th century.
As a result of its economic diversity, the region's natural environment, and the recreational potential, an increasing number of seasonal and permanent foreign residents make Sihanoukville one of the most culturally varied and dynamic population centers in Cambodia. As of 2014 tourism remains insignificant in comparison with neighboring Thailand. Sihanoukville's future will largely be defined by the authorities' ability to successfully manage natural resources on the one hand and the necessities of urban and insular development, increasing visitor numbers, expanding infrastructure, the industrial sector and population growth, on the other.
Despite being the country's premier sea side destination, after decades of war and upheaval the town and its infrastructure remain very much disjointed and architecturally unimpressive. Infrastructure problems persist, in particular related to water and power supply, while international standard health facilities remain limited.
Sihanoukville also faces challenges related to crime, security, and safety with the city frequently being the focus of scandals linked to serious organized crime, petty crime, and corruption.
In recent years, Sihanoukville has seen unprecedented levels of Chinese investment into the city with numerous casinos having opened up throughout the city. Demographically, the city's ethnic make up has changed with nearly 80,000 mainland Chinese workers, developers and investors accounting for 90% of the city's expat population as of 2019. Mandarin signage is increasingly replacing Khmer and English signage in the city and crime in the form of drunken violence and organized crime are increasing. Sihanoukville is one of the major cities on China's One Belt One Road Initiative.