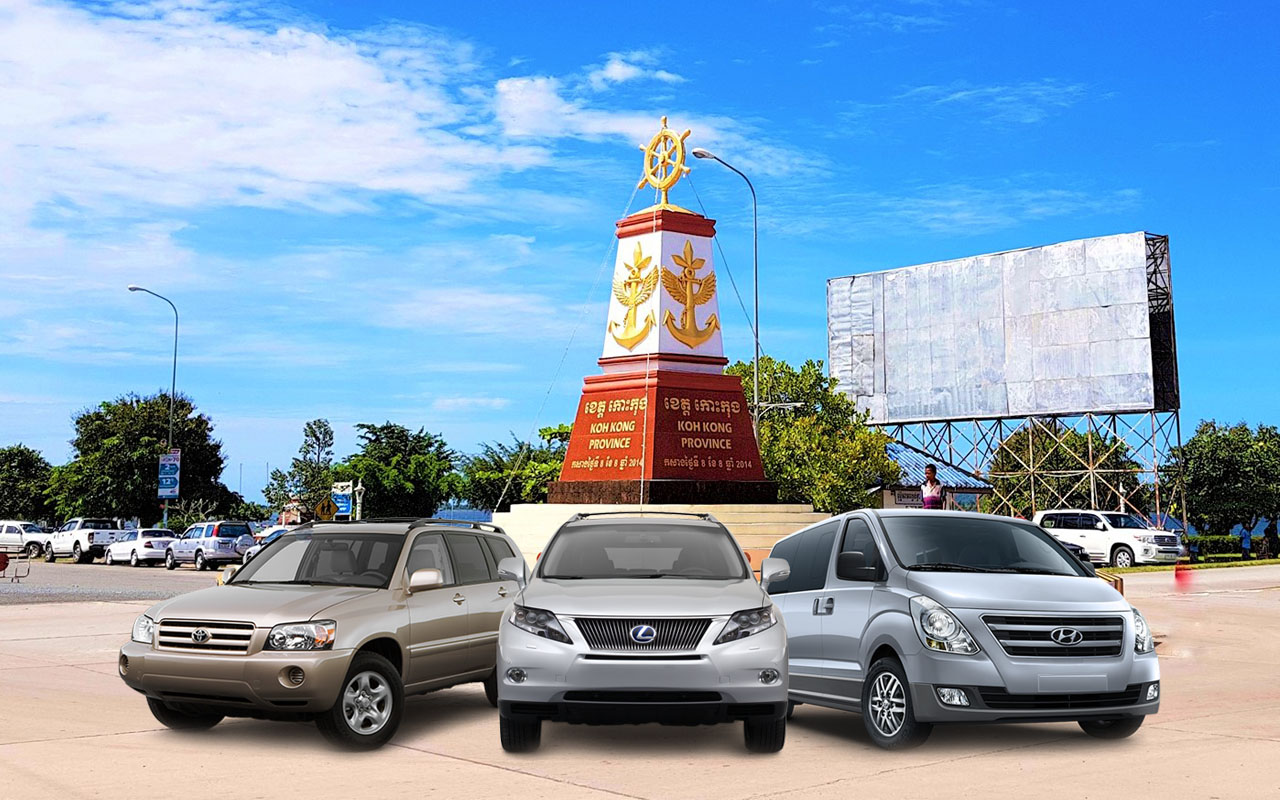 Koh Kong Taxi offering daily private mini VIP transport for sightseeing tour (DAY TOURS / MULTI-DAY & EXTENDED TOURS), and Long Distance (PICK UP DROP OFF) by the good condition of  (A/C SUV, Minivan, Van and Minibus) comfortable and convenient ride, for the most popular routes to/from Koh Kong – Mondulkiri – Phnom Penh – Siem Reap – Kep – Sihanoukville – Battambang – Ratanakiri – Kratie – Kampot – Koh Kong and other provinces, cities and the border of Thailand – Laos – Vietnam. We all speak English and fully licensed drivers.
Over 10 years of experience in doing this job, we knew the road conditions quite well and have brought our guests to their destinations comfortably and safely.
Book our private taxi to around the country with 25 provinces cities and borders, would save a lot of time and money and see a lot of things along the way, and enable for the stop for foods, rest-room, or photo shooting opportunity.
Koh Kong in Khmer: កោះកុង, Kaôh Kŏng "kɑh kong" is a province (khaet) of Cambodia. Its capital is Khemarak Phoumin (Koh Kong).
The most southwestern province of Cambodia, Koh Kong has a long undeveloped coastline and a mountainous, forested, and largely inaccessible interior which includes part of the Cardamom Mountains, Cambodia's largest national park (Botum Sakor National Park), and a section of Kirirom National Park.
The province has been the site of a Sino-Cambodian port development project in Dara Sakor. The project is planned to spread over 45,000 hectares, to include casinos, golf courses, and resorts. A 20 kilometers stretch of coastline will be turned into a deep-water port to accommodate cruise ships as well as freight. Near the port, an airfield with a runway 3,400 meters is longer than needed for commercial flights, while its turning bays are too small for civilian aircraft. Therefore, analysts suspect that the port project is a Cambodian-Chinese civil-military collaboration that will permit the Chinese navy to use the facilities as a forward operating base. Responding to US concerns, Prime Minister Hun Sen has denied the charge, pointing out that the Cambodian constitution "…has no provision for accommodating foreign military bases on its soil.