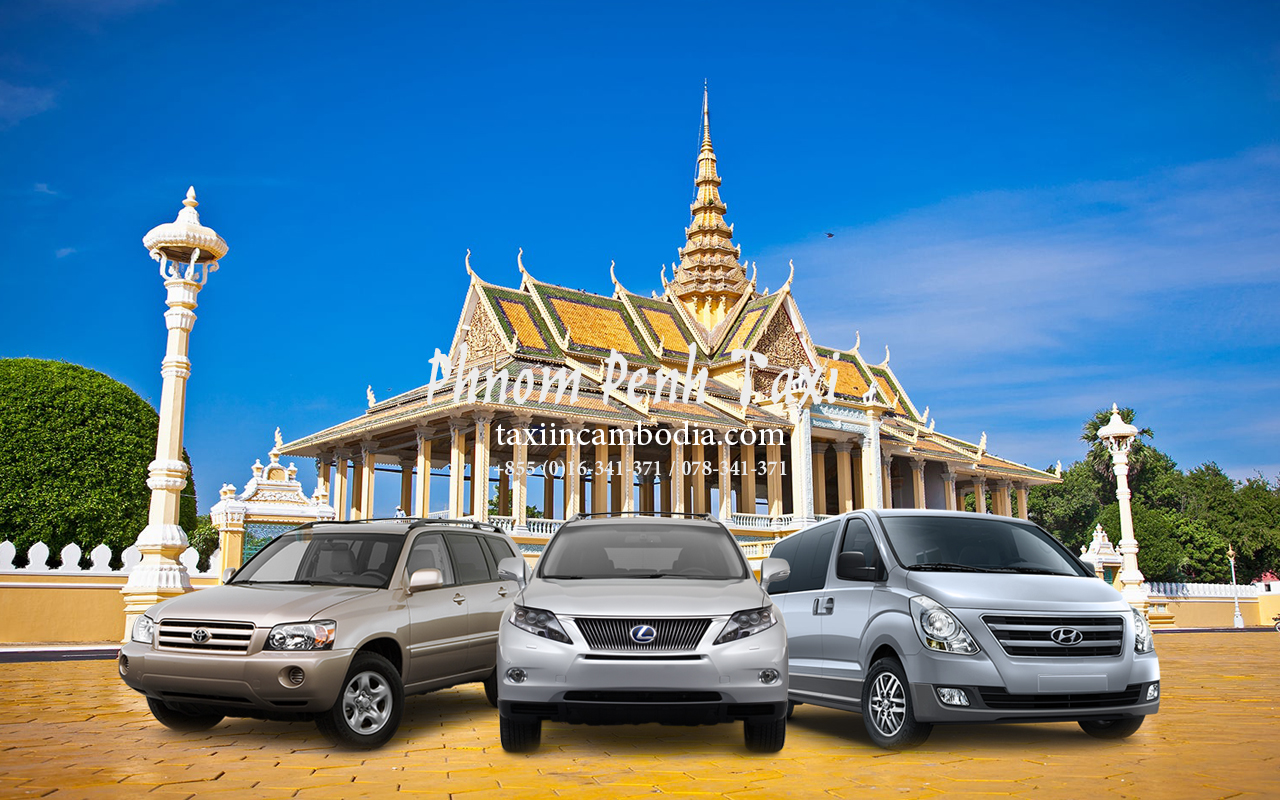 Phnom Penh Taxi offering daily private mini VIP transport for sightseeing tour (DAY TOURS / MULTI-DAY & EXTENDED TOURS), and Long Distance (PICK UP DROP OFF) by the good condition of  (A/C SUV, Minivan, Van and Minibus) comfortable and convenient ride, for the most popular routes to/from Phnom Penh – Siem Reap – Battambang – Sihanoukville – Mondulkiri – Ratanakiri – Kratie – Kampot – Kep – Koh Kong and other provinces, cities and the border of Thailand – Laos – Vietnam. We all speak English and fully licensed drivers.
Over 10 years of experience in doing this job, we knew the road conditions quite well and have brought our guests to their destinations comfortably and safely.
Book our private taxi to around the country with 25 provinces cities and borders, would save a lot of time and money and see a lot of things along the way, and enable for the stop for foods, rest-room, or photo shooting opportunity.
Phnom Penh is the capital and most populous city of Cambodia. It has been the national capital since the French protectorate of Cambodia and has grown to become the nation's primate city and its economic, industrial, and cultural center.
Phnom Penh succeeded Angkor Thom as the capital of the Khmer nation but was abandoned several times before being reestablished in 1865 by King Norodom. The city formerly functioned as a processing center, with textiles, pharmaceuticals, machine manufacturing, and rice milling. Its chief assets, however, were cultural. Institutions of higher learning included the Royal University of Phnom Penh (established in 1960 as Royal Khmer University), with schools of engineering, fine arts, technology, and agricultural sciences, the latter at Chamkar Daung, a suburb. Also located in Phnom Penh were the Royal University of Agronomic Sciences and the Agricultural School of Prek Leap.
The city was nicknamed the "Pearl of Asia" for its early 20th century colonial French architecture, which included Art Deco works. Phnom Penh, along with Siem Reap and Sihanoukville, are significant global and domestic tourist destinations for Cambodia. Founded in 1372, the city is noted for its historical architecture and attractions. It became the national capital in 1434 following the fall of Angkor, and remained so until 1497. It regained its capital status during the French colonial era in 1865. There are a number of surviving colonial-era buildings scattered along the grand boulevards.
On the banks of the Tonlé Sap, Mekong, and Bassac Rivers, Phnom Penh is home to more than 2 million people, approximately 14% of the Cambodian population. The Greater Phnom Penh area includes the nearby Ta Khmau city and some districts of Kandal province.