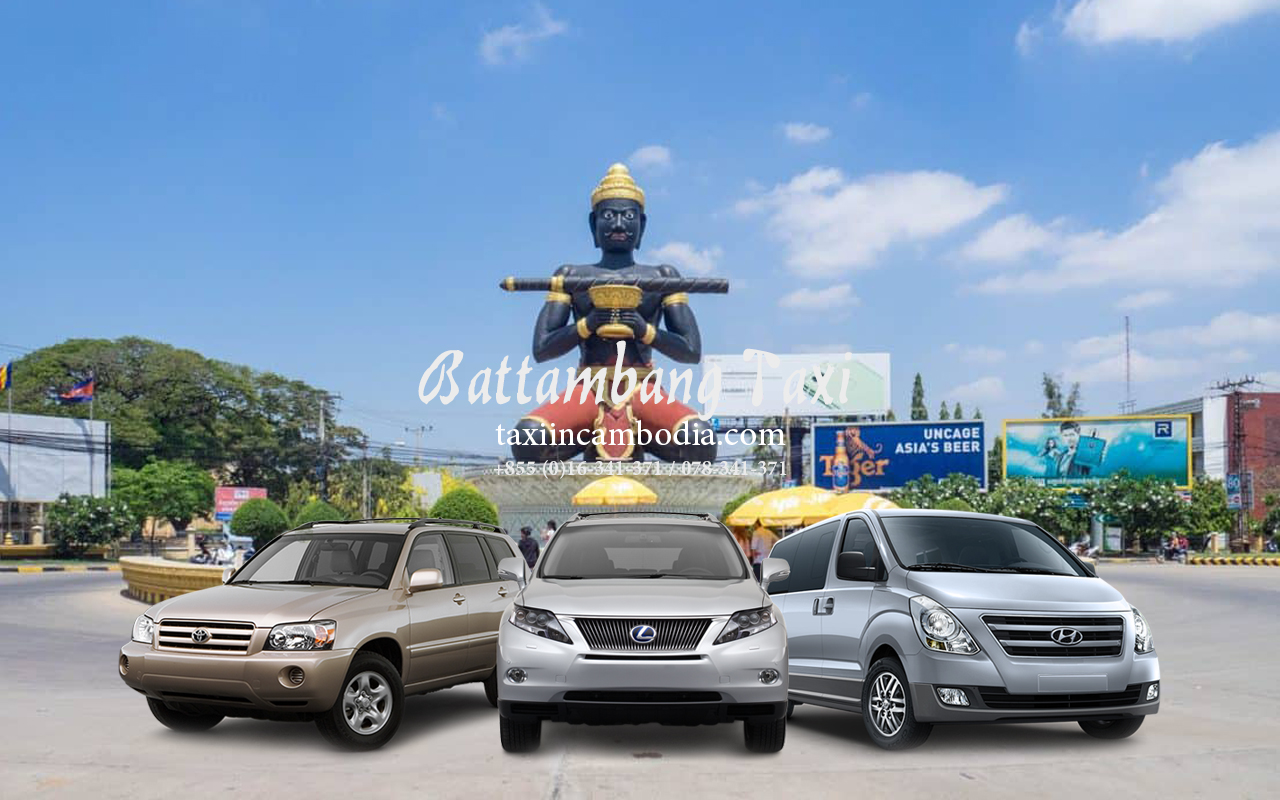 Battambang Taxi offering daily private mini VIP transport for sightseeing tour (DAY TOURS / MULTI-DAY & EXTENDED TOURS), and Long Distance (PICK UP DROP OFF) by the good condition of  (A/C SUV, Minivan, Van and Minibus) comfortable and convenient ride, for the most popular routes to/from Battambang – Sihanoukville – Phnom Penh – Siem Reap – Mondulkiri – Ratanakiri – Kratie – Kampot – Kep – Koh Kong and other provinces, cities and the border of Thailand – Laos – Vietnam. We all speak English and fully licensed drivers.
Over 10 years of experience in doing this job, we knew the road conditions quite well and have brought our guests to their destinations comfortably and safely.
Book our private taxi to around the country with 25 provinces cities and borders, would save a lot of time and money and see a lot of things along the way, and enable for the stop for foods, rest-room, or photo shooting opportunity.
Battambang: in Khmer: បាត់ដំបង, UNGEGN: Bătdâmbâng "ɓatɗɑmɓɑ" is the capital of Battambang Province and the third largest city in Cambodia.
Founded in the 11th century by the Khmer Empire, Battambang is the leading rice-producing province of the country. For nearly 100 years it was a major commercial hub and provincial capital of Siamese province of Inner Cambodia (1795-1907), though it was always populated by Khmer, with some ethnic Vietnamese, Lao, Thai and Chinese. Battambang remains the hub of Cambodia's northwest, connecting the region with Phnom Penh and Thailand.
The city is situated on the Sangkae River, a tranquil, small body of water that winds its way picturesquely through Battambang Province. As with much of Cambodia, French Colonial architecture is a notable aspect of the city, with some of the best-preserved examples in the country. Now Ministry of Tourism and Ministry of Culture and Fine Art are preparing documents to nominate Battambang to be the UNESCO Creative Cities Network in the field of Gastronomy. Other cities such as Kratie, Siem Reap, and Kampot, may follow for the next cycle in 2025 onwards