SIHANOUKVILLE AIRPORT TAXI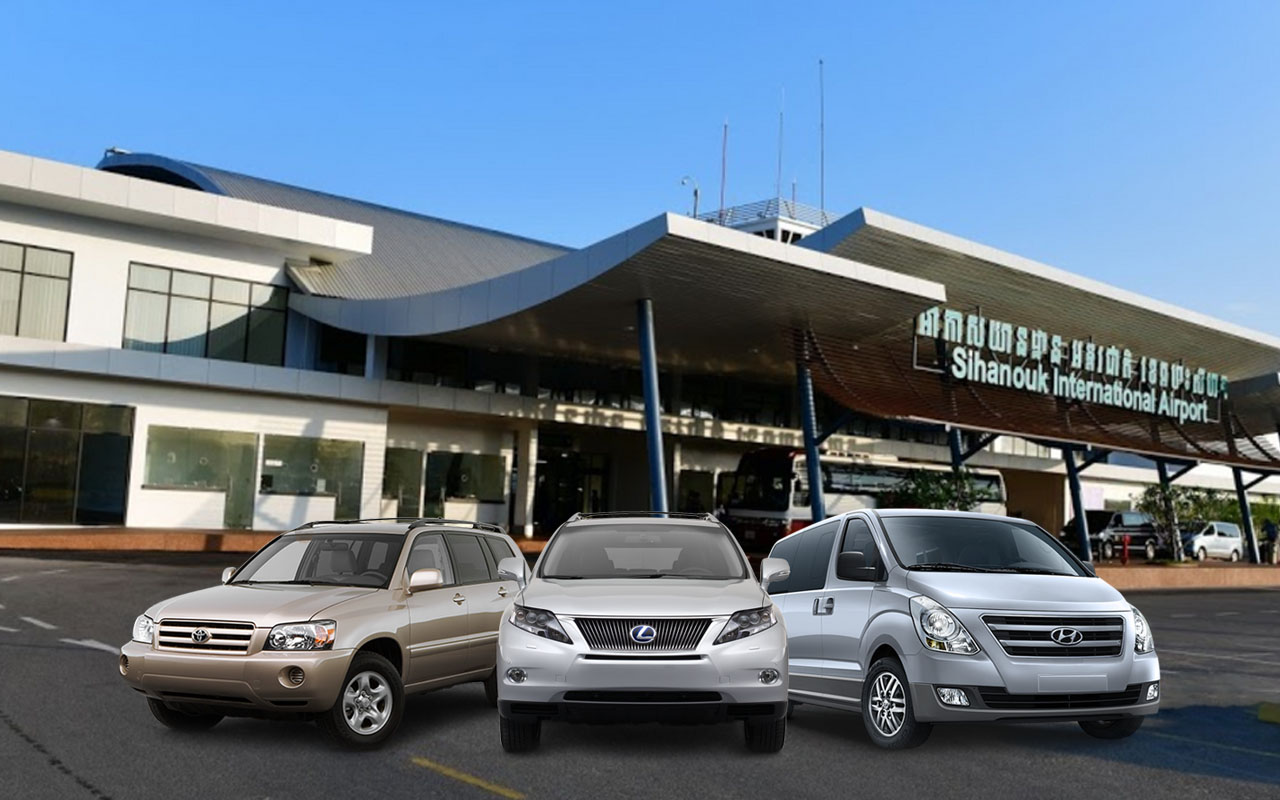 Phnom Penh Airport Taxi offering daily private mini VIP transport for sightseeing tour (DAY TOURS / MULTI-DAY & EXTENDED TOURS), and Long Distance (PICK UP DROP OFF) by the good condition of  (A/C SUV, Minivan, Van and Minibus) comfortable and convenient ride, for the most popular routes to/from Sihanoukville Airport – Sihanoukville – Phnom Penh – Siem Reap – Battambang – Phnom Penh – Mondulkiri – Ratanakiri – Kratie – Kampot – Kep – Koh Kong and other provinces, cities and the border of Thailand – Laos – Vietnam. We all speak English and fully licensed drivers.
Over 10 years of experience in doing this job, we knew the road conditions quite well and have brought our guests to their destinations comfortably and safely.
Book our private taxi to around the country with 25 provinces cities and borders, would save a lot of time and money and see a lot of things along the way, and enable for the stop for foods, rest-room, or photo shooting opportunity.
SIHANOUKVILLE AIRPORT SHUTTLE
| VEHICLES | TO/FROM | 1 WAY | ROUND TRIP |
| --- | --- | --- | --- |
| SUV (4 pax) | PNH - CITY | 30.USD | 55.USD |
| MINIVAN (5 pax) | PNH - CITY | 35.USD | 65.USD |
| VAN (7 seats) | PNH - CITY | 45.USD | 80.USD |
About Sihanoukville Airport
Sihanouk International Airport (formerly Sihanoukville International Airport; Khmer: អាកាសយានដ្ឋានអន្តរជាតិខេត្តព្រះសីហនុ; French: Aéroport international de Sihanouk) (IATA: KOS, ICAO: VDSV), located 20 kilometres (12 mi) east of Sihanoukville City in Sihanoukville Province, is Cambodia's third largest international airport. It is named, like the province itself, after King Norodom Sihanouk. The airport is also known as Kang Keng Airport (Khmer: អាកាសយានដ្ឋានកងកេង). The IATA code KOS is derived from Sihanoukville's alternative name "Kampong Som".
History:
The airfield was originally constructed in the 1960s with assistance from the Soviet Union. After a long period of dormancy during and after the Khmer Rouge era, the airport formally reopened on 5 January 2007. The runway was extended to a length of 3,300 metres (10,827 ft) in order to accommodate 4E class aircraft. The 2 existing taxiways were widened and a cargo apron for 4E class aircraft was added. However, after the crash of PMTair Flight U4 241 in June 2007 shortly before landing, scheduled passenger flight service to the airport was discontinued until 2011.
Cambodia Angkor Air started a tri-weekly service from Angkor International Airport in Siem Reap on 14 December 2011. The service was further adjusted to continue Phnom Penh as well operating a triangle route Siem Reap-Sihanoukville-Phnom Penh-Siem Reap from the beginning of 31 March 2013. Starting in September 2013, airline will provide a Siem Reap-Sihanoukville route twice daily during the high peak season.