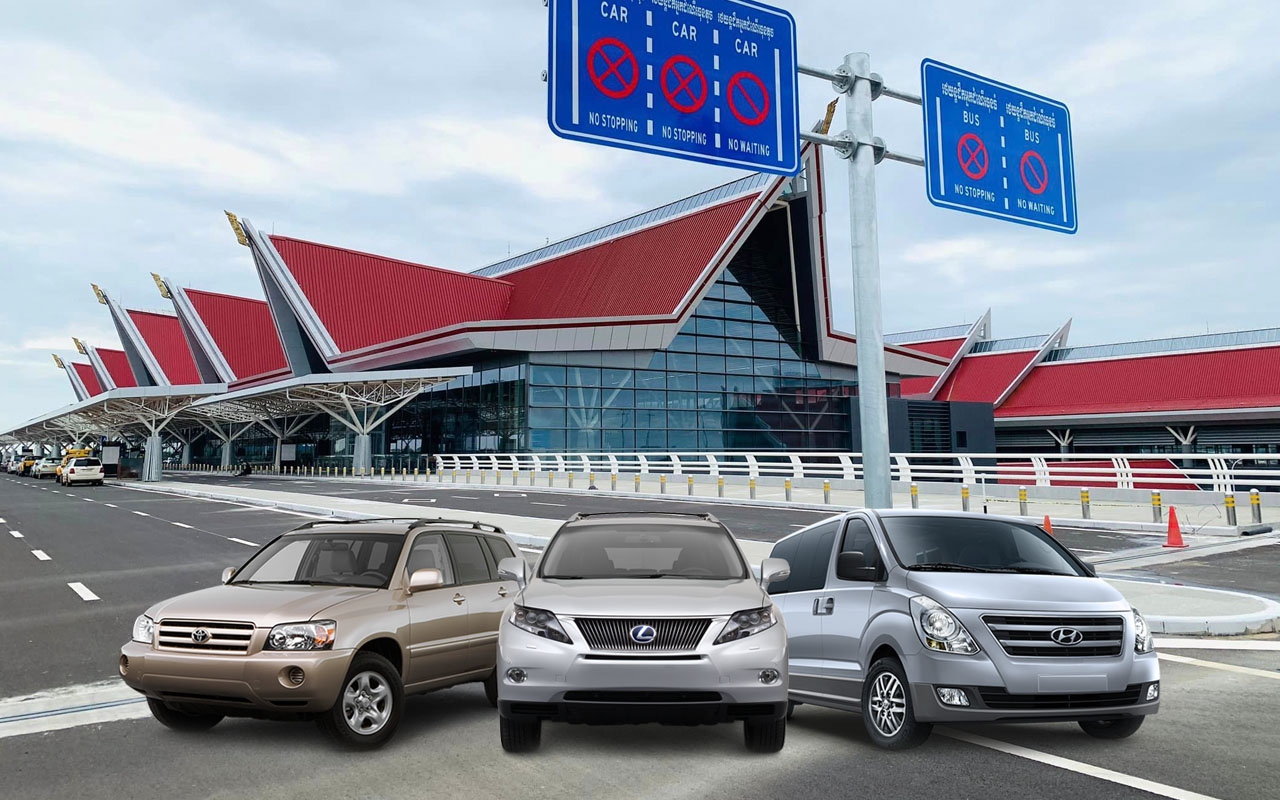 Siem Reap Airport Taxi offering daily private mini VIP transport for sightseeing tour (DAY TOURS / MULTI-DAY & EXTENDED TOURS), and Long Distance (PICK UP DROP OFF) by the good condition of  (A/C SUV, Minivan, Van and Minibus) comfortable and convenient ride, for the most popular routes to/from Siem Reap Airport – Siem Reap – Battambang – Sihanoukville – Phnom Penh – Mondulkiri – Ratanakiri – Kratie – Kampot – Kep – Koh Kong and other provinces, cities and the border of Thailand – Laos – Vietnam. We all speak English and fully licensed drivers.
Over 10 years of experience in doing this job, we knew the road conditions quite well and have brought our guests to their destinations comfortably and safely.
Book our private taxi to around the country with 25 provinces cities and borders, would save a lot of time and money and see a lot of things along the way, and enable for the stop for foods, rest-room, or photo shooting opportunity.
SIEM REAP AIRPORT SHUTTLE
| VEHICLES | TO/FROM | 1 WAY | ROUND TRIP |
| --- | --- | --- | --- |
| SUV (4 pax) | SAI - CITY | 35.USD | 65.USD |
| VAN (7 pax) | SAI - CITY | 40.USD | 75.USD |
| MINIBUS (12 seats) | SAI - CITY | 85.USD | 160.USD |
Phnom Penh International Airport (IATA: PNH, ICAO: VDPP) is the busiest airport in Cambodia and serves as the country's main international gateway. It is Cambodia's second largest airport by area after the new Siem Reap–Angkor International Airport. It is located in the Pou Senchey District, 10 kilometres (5.4 NM) west of Phnom Penh, the nation's capital.
Facilities:
Overview:
The airport is at an elevation of 40 feet (12 m) above mean sea level. It has one runway designated 05/23 with an asphalt surface measuring 3,000 by 50 metres (9,840 ft × 160 ft). The airport has two terminal buildings – one for international and one for domestic operations. Recently, it added a new facility for VIP service. The international terminal has four aerobridges built in 2003. Three more aerobridges were added during the passenger terminal expansion in 2016–2017. The airport's design capacity is 5 million people per year.
Expansion:
In 2014, Cambodia Airports announced a $100 million project to expand the passenger terminals at Phnom Penh and Siem Reap international airports to accommodate continued strong passenger growth. The project saw the extension of the parking lots and terminals, more check-in and immigration counters, and new baggage handling systems. Additionally, the commercial areas were enlarged to allow for more retail shops, new restaurants and food and beverage outlets, and mezzanine lounges to cater to first class and business travelers. The expansions will allow the airport to double its capacity to handle 5 million passengers a year from 2.5 million passengers.
History:
Phnom Penh airport's former name was Pochentong International Airport. The name of Pochentong International Airport was derived from the leader of the Kuomintang Cambodian branch, Po Chentong (Chinese: 波成東).[citation needed]
On 6 July 1995, the Royal Government of Cambodia (RGC) signed a concession agreement with the French–Malaysian joint venture company Société Concessionaire d'Aéroport (SCA), to operate Phnom Penh (PNH) – Pochentong International Airport. In return for a 20-year concession, SCA—70 per cent owned by Groupe GTM and 30 per cent by Muhibbah Masterron of Malaysia—committed to a $100 million improvement program that includes the construction of a new runway, terminal and cargo buildings, hangars, installation of a Cat III level Instrument Landing System (ILS) and associated approach lighting.[citation needed] The Berger Group was selected by the RGC to provide independent engineering services during the concession, to audit the design and to advise on the practicality and cost of the concession's proposed improvements. The Berger team also supervised the initial works to accommodate widebody aircraft such as 747s, including asphalt concrete runway overlays; installation of new ILS, metrological equipment, runway lighting and generator and power systems; and construction of a new fire station, taxiway and turn-pad extensions. Following the successful completion of the initial works, the Berger team provided design review and independent engineering services for the construction of a new 20,000-square-metre (220,000 sq ft) terminal building to accommodate growing tourist traffic. The $20 million terminal building includes four mobile aerobridges, over 1000 auto parking spaces and VIP and CIP facilities.[citation needed]
In March 2011, Air France began flights to Paris via Bangkok using Airbus A340s. The stopover changed to Ho Chi Minh City the following year. The route lasted until March 2013.
The airport is expected to be replaced with the Techo International Airport by 2025, located in Kandal province.