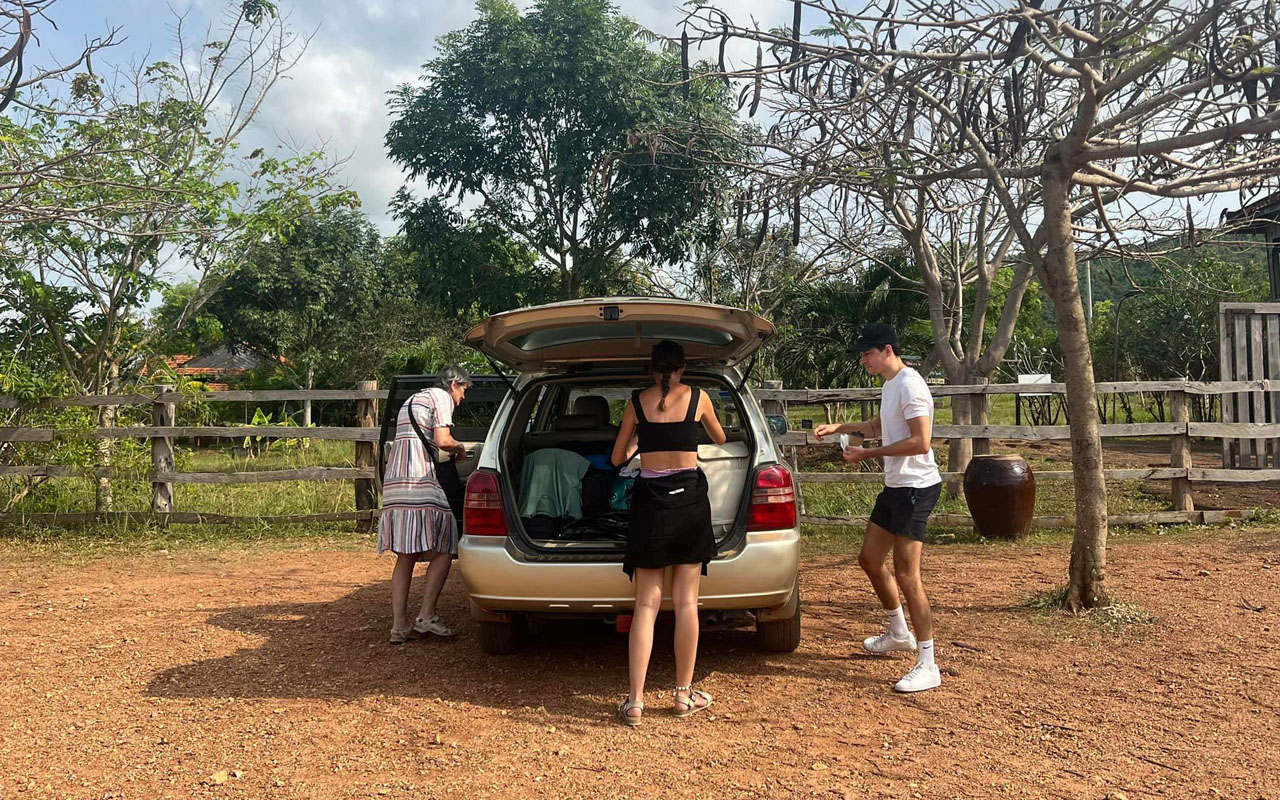 Ratanakiri Taxi offering daily private mini VIP transport for sightseeing tour (DAY TOURS / MULTI-DAY & EXTENDED TOURS), and Long Distance (PICK UP DROP OFF) by the good condition of  (A/C SUV, Minivan, Van and Minibus) comfortable and convenient ride, for the most popular routes to/from Ratanakiri – Mondulkiri – Phnom Penh – Siem Reap – Kep – Sihanoukville – Battambang – Kratie – Kampot – Koh Kong and other provinces, cities and the border of Thailand – Laos – Vietnam. We all speak English and fully licensed drivers.
Over 10 years of experience in doing this job, we knew the road conditions quite well and have brought our guests to their destinations comfortably and safely.
Book our private taxi to around the country with 25 provinces cities and borders, would save a lot of time and money and see a lot of things along the way, and enable for the stop for foods, rest-room, or photo shooting opportunity.
Ratanakiri in Khmer: រតនគិរី, UNGEGN: Rôtânôkĭri, ALA-LC: Ratanagirī "rɔətanakiriː"; lit. 'Gem Mountains' is a province of northeast Cambodia. It borders the provinces of Mondulkiri to the south and Stung Treng to the west and the countries of Laos (Attapeu) and Vietnam (Gia Lai and Kon Tum) to the north and east, respectively. The province extends from the mountains of the Annamite Range in the north, across a hilly plateau between the Tonlé San and Tonlé Srepok rivers, to tropical deciduous forests in the south. In recent years, logging and mining have scarred Ratanakiri's environment, long known for its beauty.
For over a millennium, Ratanakiri has been occupied by the highland Khmer Loeu people, who are a minority elsewhere in Cambodia. During the region's early history, its Khmer Loeu inhabitants were exploited as slaves by neighboring empires. The slave trade economy ended during the French colonial era, but a harsh Khmerization campaign after Cambodia's independence again threatened Khmer Loeu ways of life. The Khmer Rouge built its headquarters in the province in the 1960s, and bombing during the Vietnam War devastated the region. Today, rapid development in the province is altering traditional ways of life.
Ratanakiri is sparsely populated; its 184,000 residents make up just over 1% of the country's total population. Residents generally live in villages of 20 to 60 families and engage in subsistence shifting agriculture. Ratanakiri is among the least developed provinces of Cambodia. Its infrastructure is poor, and the local government is weak. Health indicators in Ratanakiri are extremely poor; men's life expectancy is 39 years, and women's is 43 years. Education levels are also low, with just under half of the population illiterate.