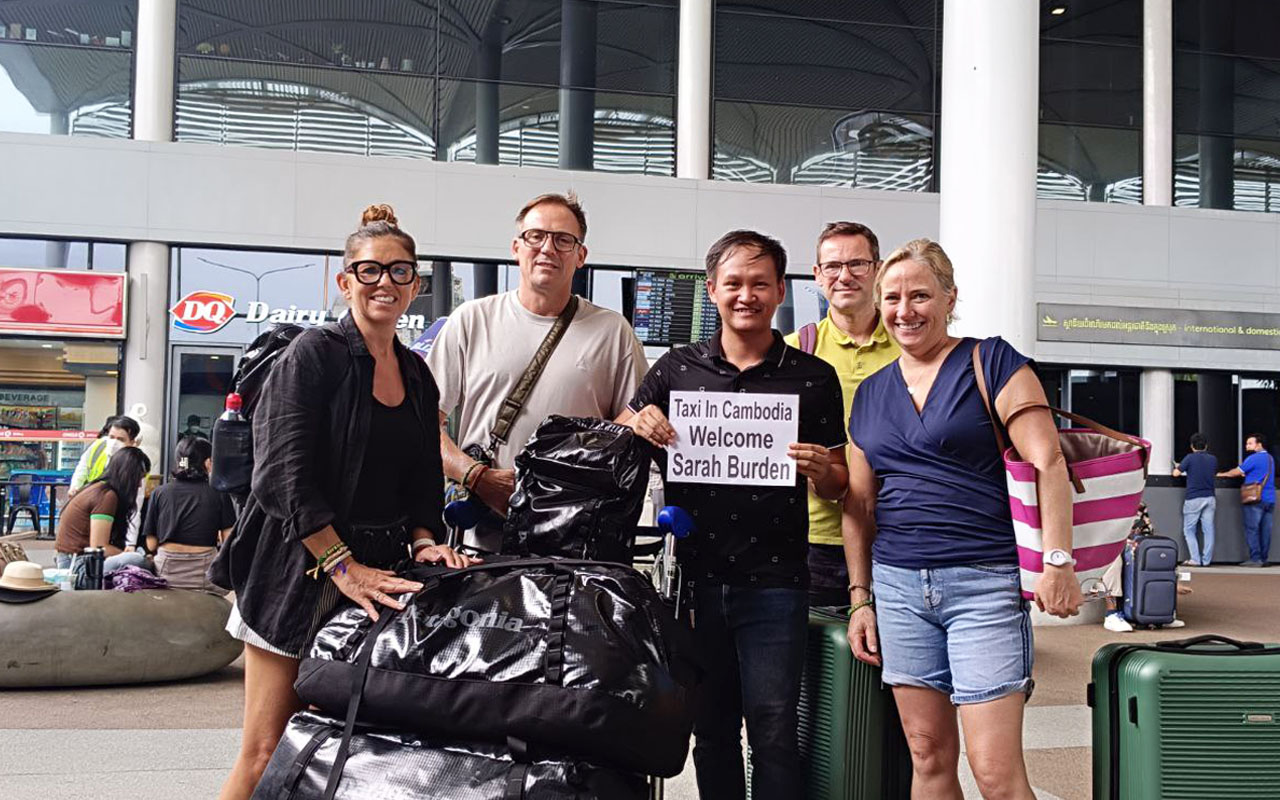 Phnom Penh Airport Taxi offering daily private mini VIP transport for sightseeing tour (DAY TOURS / MULTI-DAY & EXTENDED TOURS), and Long Distance (PICK UP DROP OFF) by the good condition of  (A/C SUV, Minivan, Van and Minibus) comfortable and convenient ride, for the most popular routes to/from Phnom Penh Airport – Phnom Penh – Siem Reap – Battambang – Sihanoukville – Phnom Penh – Mondulkiri – Ratanakiri – Kratie – Kampot – Kep – Koh Kong and other provinces, cities and the border of Thailand – Laos – Vietnam. We all speak English and fully licensed drivers.
Over 10 years of experience in doing this job, we knew the road conditions quite well and have brought our guests to their destinations comfortably and safely.
Book our private taxi to around the country with 25 provinces cities and borders, would save a lot of time and money and see a lot of things along the way, and enable for the stop for foods, rest-room, or photo shooting opportunity.
PHNOM PENH AIRPORT SHUTTLE
| VEHICLES | TO/FROM | 1 WAY | ROUND TRIP |
| --- | --- | --- | --- |
| SUV (4 pax) | PNH - CITY | 25.USD | 45.USD |
| MINIVAN (5 pax) | PNH - CITY | 30.USD | 65.USD |
| VAN (7 seats) | PNH - CITY | 35.USD | 65.USD |
Siem Reap International Airport (IATA: REP, ICAO: VDSR) was an international airport serving Siem Reap, a popular tourist destination due to the nearby Angkor Archaeological Park including the celebrated Angkor Wat temple. It was the second-busiest airport in Cambodia after Phnom Penh International Airport. The airport was closed and replaced by the new Siem Reap–Angkor International Airport for commercial operations, due to operational and traffic constraints, in October 2023.
Facilities:
The airport's new terminal was inaugurated on 28 August 2006.[citation needed] The Cambodian government has plans to replace the airport with a new one, 60 km from Siem Reap. As of 2008, extensions to the airport's apron and parking areas are taking place. Air Traffic Control is provided by CATS (Cambodia Air Traffic Services), with full approach and aerodrome VHF facilities being housed in the control tower, between the fire station and the domestic terminal.
CATS are also responsible for clearing takeoffs and landings of tourist helicopters from the "Big Balloon" site, 3 km away, near Angkor Wat. Both Helicopters Cambodia and Sokha Helicopters operate from the airport, with Sokha mainly operating from the Big Yellow Balloon site. The airport itself is located some 6 km outside Siem Reap, just off National Route 6 north. Runway alignments are 23 & 05, with only 23 being used for takeoff, due to flight restrictions over Angkor temple.
History:
Siem Reap Airport first opened in 1932 under French supervision. A modern terminal was inaugurated in 2006.
In November 2012, Condor launched seasonal service to Frankfurt using a Boeing 767. The outbound flight from Siem Reap operated via Phuket, while the inbound one was nonstop. The route lasted one season.
Due to growing demands and traffic, the airport will not be able to cope in the future, as it is already running in its constraining capacity of over 10 million passengers per annum. So, to handle the future traffic, the Government of Cambodia decided to build a new airport for Siem Reap and eventually replace the present airport with the new one in the future. The project was first introduced in 2010,[11] and selected a Chinese company, Yunnan Investment Holdings Limited, to build the airport in December 2016.
Another reason for the new airport project is because of a study conducted by a team of researchers, who found that due to the existing airport and the city's excessive air pollution, the harmful pollutants present in the air is causing harm to the Angkor Wat Temple Complex. If remained unchecked, it could result in the complete erasing of scriptures and carvings and damage to the entire complex. In view of this, a new airport has been built, located 50 km (31 mi) south-east of Siem Reap and 40 km (25 mi) from Angkor Wat. It is being built in three phases, out of which the first phase opened in October 2023, and will be able to handle 5–7 million passengers annually. The new airport replaced this airport as the main international airport for Western Cambodia upon its inauguration, by shifting all flights and commercial operations to the new one.
The airport is at an elevation of 60 feet (18 m) above mean sea level. It has one runway designated 05/23 with a concrete surface measuring 2,550 by 45 metres (8,366 ft × 148 ft).