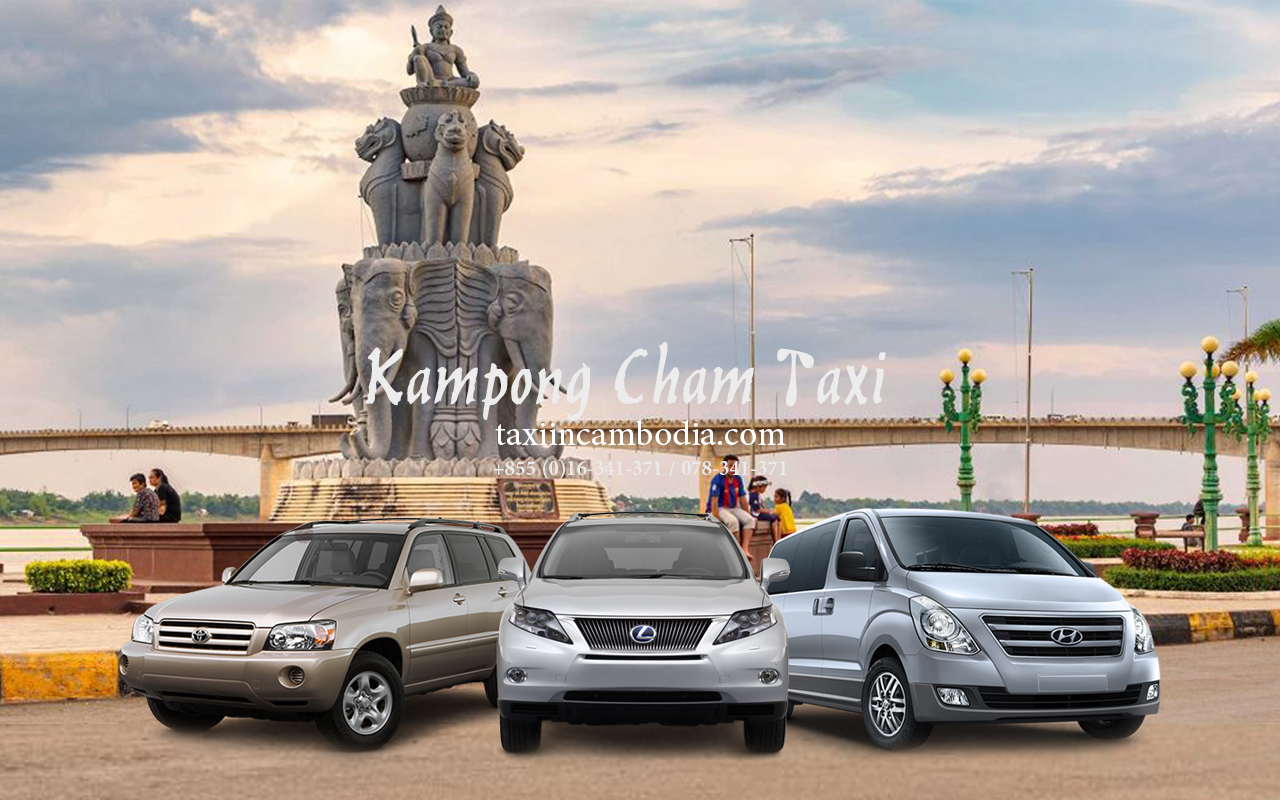 Kampong Cham Taxi offering daily private mini VIP transport for sightseeing tour (DAY TOURS / MULTI-DAY & EXTENDED TOURS), and Long Distance (PICK UP DROP OFF) by the good condition of  (A/C SUV, Minivan, Van and Minibus) comfortable and convenient ride, for the most popular routes to/from Kampong Cham – Phnom Penh – Siem Reap – Battambang – Sihanoukville – Mondulkiri – Ratanakiri – Kratie – Kampot – Kep – Koh Kong and other provinces, cities and the border of Thailand – Laos – Vietnam. We all speak English and fully licensed drivers.
Over 10 years of experience in doing this job, we knew the road conditions quite well and have brought our guests to their destinations comfortably and safely.
Book our private taxi to around the country with 25 provinces cities and borders, would save a lot of time and money and see a lot of things along the way, and enable for the stop for foods, rest-room, or photo shooting opportunity.
Kampong Cham in Khmer: កំពង់ចាម, UNGEGN: Kampong Cham "kɑmpɔŋ caːm"; lit. 'Cham Port') is a province of Cambodia located on the central lowlands of the Mekong River. It borders the provinces of Kampong Chhnang to the west, Kampong Thom and Kratié to the north, Tboung Khmum to the east, and Prey Veng and Kandal to the south. Kampong Cham was officially divided into two provinces on 31 December 2013 in what was seen by many as a political move by the ruling party. All land west of the Mekong remained Kampong Cham while land east of the river became Tbong Khmum province. Prior to this division, Kampong Cham extended eastward to the international border with Vietnam, was the eleventh largest province in Cambodia, and with a population of 1,680,694, was the most populous province in Cambodia. Its capital and largest city is Kampong Cham.
Kampong Cham means "Port of the Chams" in Khmer. Kampong means port or harbor. Cham refers to the ethnic Cham people living in the province. The word kampong in Cham is shared in other Austronesian languages, but in Malay and Indonesian it means village and is generally spelled kampung. A symbol the province is known for is two snakes wrapped around each other, which is located at the capital city bridge, Kampong Cham.